Where should I use outdoor infrared heaters?
With the popularity of terraces continuing to grow, more and more people are looking to extend their homes with outdoor living space where they can enjoy spending time outdoors. But in the colder months or evenings, a warming solution is often needed. Outdoor infrared radiant heaters are an excellent choice in such situations, as they are energy efficient, environmentally friendly and provide a comfortable warmth.
Outdoor infrared radiant heaters can be used effectively mainly on terraces, balconies, under pergolas in gardens or even in outdoor areas of catering establishments and restaurants. These devices work by radiation, i.e. they do not heat the air directly, but the objects and people near the radiant heater. This makes the sensation of heat immediately perceptible.
How does an outdoor infrared heater work?
Outdoor infrared heaters emit infrared rays that penetrate the air and directly affect people and objects, making them feel warmer. Thanks to its high energy conversion efficiency of almost 100%, this heating method is highly energy efficient.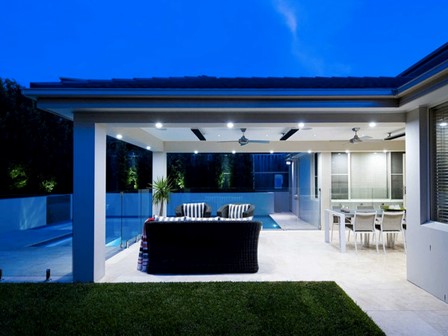 Environmentally friendly heating solution
Let's look at the effects of infrared heaters on the environment! First of all, they use electricity, reducing the need for fossil fuels. They also have no emissions, so they do not pollute the air or the environment. The heaters operate quietly, which also reduces noise pollution, so they are sure not to disturb family members and guests sitting nearby talking and relaxing.
It can save you a lot
In terms of the impact on our wallets, outdoor infrared heaters are also beneficial. Thanks to their energy efficiency, they significantly reduce heating costs, which pays off in the long run. They are also affordable, with a choice of models of different outputs and sizes, making it easy to find the right one for your needs.
Why are outdoor infrared heaters so effective?
One of the main advantages is that the outdoor infrared heater heats directly. This means that you can feel the warm rays as soon as the unit is switched on, so you don't have to wait hours for traditional heating solutions to warm up the patio air. Thanks to direct heating, it uses less energy, making it more cost-effective.
The energy efficiency of outdoor infrared heaters is exceptional. Because infrared radiation only converts energy into heat when it encounters a solid material, losses can be minimised. This means that thermal energy is directed directly at people and objects without unnecessarily heating the air. Thus the energy consumption of outdoor infrared heaters is much lower than other heating solutions.
Overall, outdoor infrared heaters are becoming increasingly popular for a number of reasons. In addition to their energy efficiency, they offer an environmentally friendly solution and help to increase the comfort of families and restaurants. If you want to make your time on your patio more pleasant, consider installing outdoor infrared heaters!
You can see our current offer on our webshop, but if you have any questions, feel free to contact us contact us at!