Although the infrapanel is not yet a widespread heating solution, the energy crisis has made more and more people realise that it is only worth investing in modern, new technology, truly energy-efficient solutions. But why choose Yandiya products? The facts are in our favour!
A Yandiya manufactures infrared panels with a patented process and a special design that puts it at the forefront of infrared heating solutions. It is the combined efforts of a whole team of engineers that has resulted in a product that is so energy efficient and infinitely simple for the end user to use. The latest technologies have been used, and not only for efficiency but also for safety.
A Yandiya infrared panels are designed to provide a highly secure heating solution. They are also equipped with an anti-overheating function, so that the panels do not overheat and cause an accident in your home. Above a certain temperature, the panel simply switches off, so you don't have to pay any extra attention to it and can leave it on when you leave the house. This solution does not affect the performance of the infrared panels, in fact we won't even notice it's happening, so we don't have to worry about it causing us to feel cold in the house.
Thanks to the innovation we have developed, we have been able to radically reduce the energy consumption of the infrared panels, without sacrificing thermal performance. Over time, the performance of the appliance does not degrade, so it will continue to deliver the same thermal performance you expected when you bought it.
Yandiya's goal is to remain the market leader in infrastructure panels for the long term. High quality is guaranteed by the company's own strict quality assurance system and by the certification of independent accreditation bodies.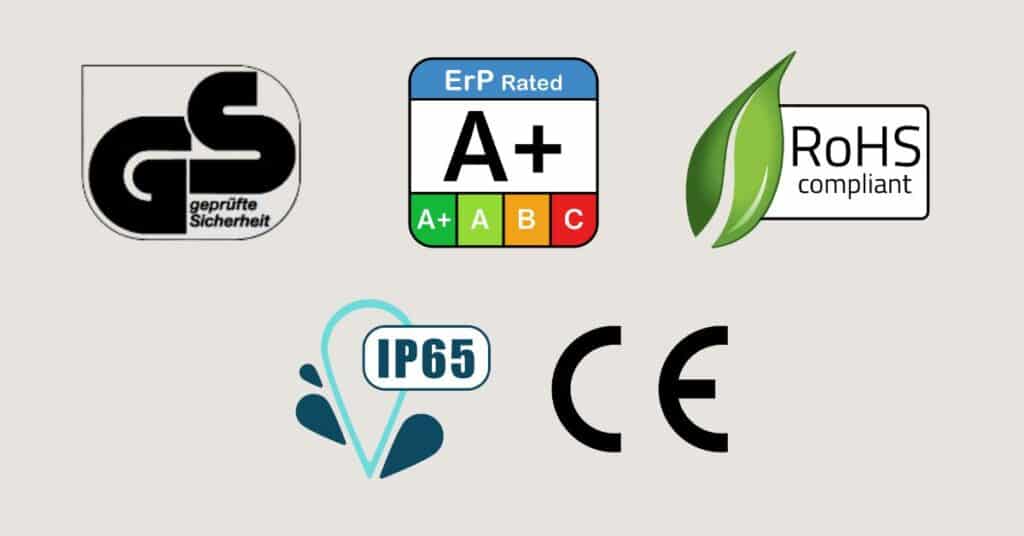 RoHS
The RoHS Directive is an EU directive aimed at restricting the use of certain hazardous substances in electrical and electronic equipment. The legislation was intended to ensure that electronic products are free from a range of hazardous substances and to facilitate the recycling of waste streams. It is interesting to note that the recast of Directive 2002/95/EC (2011/65/EU) was adopted during the Hungarian EU Presidency.
CE
"CE" stands for the French "Conformité Européene", which literally means "European Conformity". The marking is intended to indicate that the product conforms to the specifications that apply to it and can be freely placed on the EEA internal market.
IP
IP classification, or intrusion protection, was developed by the IEC (International Electrotechnical Commission) and is most commonly used in Europe and Asia. Products with IP65 and IP67 protection can be used outdoors, in wet environments, in non-mechanically protected locations.
ErP
In December 2007, the European Union adopted a new package of regulations to promote energy use and climate protection, known as the ErP, or Energy-related Products, and ELD, or Energy Class Directive. Our products have the highest energy efficiency rating, A+.
For more information about our infopanels, feel free to browse our more articles on our blog. You can also contact us directly with any questions contact us at. You can find our current products our webshop, which can be either through or by e-mail and they will be delivered to you free of charge by GLS courier.